Introduction:
Planning your dream honeymoon? Look no further than the breathtaking islands of Maldives, renowned for their pristine beaches, turquoise waters, and luxurious resorts. With countless islands to choose from, each offering its unique charm, it can be challenging to narrow down the perfect destination. But fear not!
In this beginner's guide, we will take you on a virtual tour of the best beaches in Maldives for your romantic getaway, helping you create memories that will last a lifetime.
Best Beach Islands in Maldives for Dreamy Vacation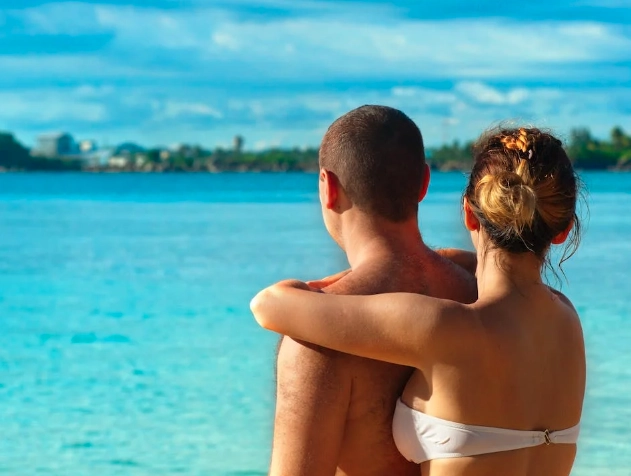 Veligandu Island
Romance in Seclusion: Veligandu Island's Serene Beaches
One of the most popular honeymoon destinations in Maldives, Veligandu Island, offers an intimate and secluded paradise for couples. With its powdery white sands, swaying palm trees, and crystal-clear waters, this island is a haven for romance. You can spend your days sunbathing on the pristine beaches, exploring the vibrant coral reefs, or indulging in couples' spa treatments. The calm and tranquil atmosphere of Veligandu Island ensures an unforgettable honeymoon experience.
Cocoa Island
A Tropical Escape: Cocoa Island's Enchanting Beaches
For couples seeking a tranquil retreat, Cocoa Island is a hidden gem in the Maldives. Known for its luxurious overwater bungalows and azure lagoons, this island offers a perfect blend of natural beauty and seclusion. The pristine beaches provide the ideal backdrop for romantic walks hand-in-hand, while the world-class snorkeling and diving sites offer an opportunity to explore the vibrant marine life together. A honeymoon on Cocoa Island is an invitation to relax, rejuvenate, and rediscover each other.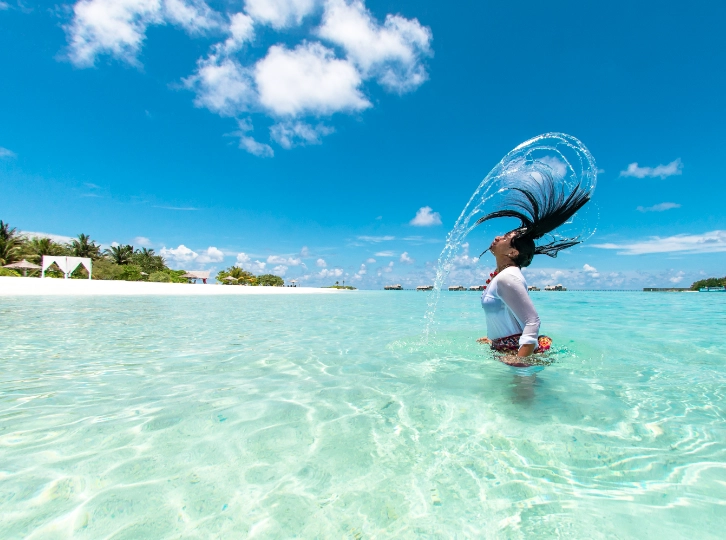 Baros Island
Paradise Perfected: Baros Island's Exquisite Beaches
Welcome to Baros Island, a slice of paradise nestled in the Indian Ocean. Renowned for its untouched beauty and personalized service, this island is a dream come true for honeymooners. The powdery white sand beaches, complemented by the turquoise waters, create a picture-perfect setting for romance. From private candlelit dinners on the beach to indulgent spa experiences for couples, Baros Island ensures an intimate and unforgettable honeymoon.
Maafushi Island
Budget Bliss: Maafushi Island's Affordable Beaches
If you're seeking a budget-friendly honeymoon without compromising on natural beauty, Maafushi Island is the perfect choice. Located in the Kaafu Atoll, this island offers pristine beaches, vibrant coral reefs, and a range of affordable accommodations. You can spend your days exploring the picturesque beaches, snorkeling alongside colorful fish, or embarking on a romantic sunset cruise. Maafushi Island proves that a dreamy honeymoon in the Maldives doesn't have to break the bank.
Hulhumalé Island
Urban Oasis: Hulhumalé Island's Unique Beaches
For couples looking to combine island beauty with urban amenities, Hulhumalé Island offers a fascinating contrast. Located near the capital city of Male, this artificial island boasts stunning beaches, water sports activities, and a range of dining and shopping options. Whether you choose to relax on the sandy shores, enjoy water sports adventures, or explore the vibrant local culture, Hulhumalé Island promises an unforgettable honeymoon experience.
Reethi Rah Island
Luxury Redefined: Reethi Rah Island's Exquisite Beaches
If opulence and extravagance are what you seek, look no further than Reethi Rah Island. This ultra-luxurious destination is renowned for its world-class resorts, private villas, and pristine beaches. Picture yourself lounging on the soft sands, surrounded by lush greenery and breathtaking ocean views. Reethi Rah Island offers a range of exclusive amenities, including private pools, personal butlers, and gourmet dining experiences, ensuring an indulgent and romantic honeymoon.
Mirihi Island
Dive into Love: Mirihi Island's Dazzling Beaches
Calling all diving enthusiasts! Mirihi Island is a paradise for couples seeking underwater adventures. Located in the South Ari Atoll, this intimate island boasts stunning white sand beaches and vibrant coral reefs teeming with marine life. Dive hand-in-hand with your loved one and explore the mesmerizing underwater world, or simply bask in the sun on the secluded beaches. Mirihi Island promises an unforgettable honeymoon experience for water-loving couples.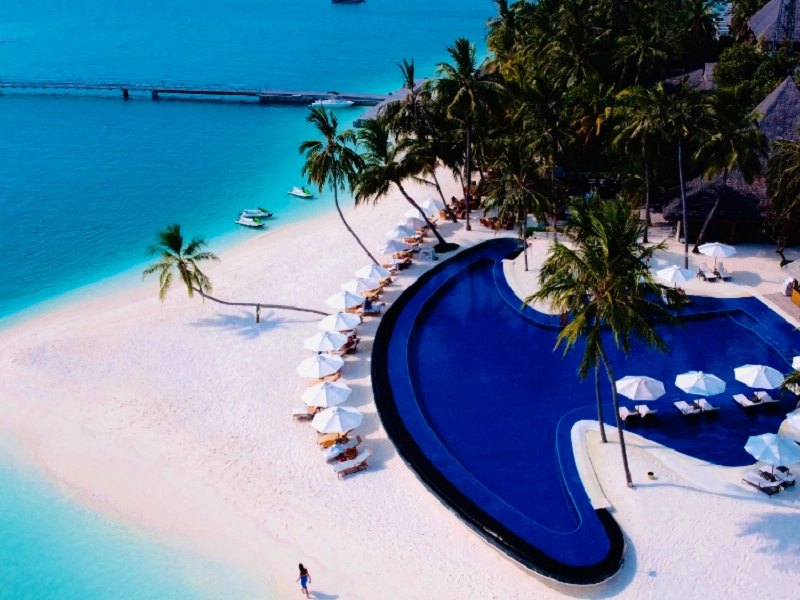 Vaadhoo Island
A Celestial Experience: Vaadhoo Island's Bioluminescent Beaches
Prepare to be enchanted by the celestial beauty of Vaadhoo Island. Known for its mesmerizing bioluminescent beaches, this island offers a unique and magical experience for honeymooners. When night falls, witness the shores glowing with natural light, as the waves shimmer with a breathtaking blue glow. This romantic phenomenon creates an ethereal ambiance, perfect for stargazing and creating unforgettable memories with your loved one.
Conclusion
Congratulations! You've just embarked on a journey through the best beaches in Maldives for honeymooners. From secluded islands to luxurious retreats, and from budget-friendly options to underwater wonders, Maldives has something for every couple seeking a dreamy getaway. So pack your bags, immerse yourself in the beauty of Maldives, and let the magic of these breathtaking beaches create memories that will last a lifetime.
FAQs:
Is Maldives an affordable honeymoon destination?
Answer: While Maldives is known for its luxury resorts, there are budget-friendly options available, especially on islands like Maafushi. By carefully planning and choosing accommodations wisely, you can enjoy a romantic honeymoon in Maldives without breaking the bank.
What is the best time of year to visit the Maldives for a honeymoon?
Answer: The best time to visit the Maldives is during the dry season, which falls between November and April. This period offers clear skies, calm seas, and ideal weather for outdoor activities and beach exploration.
Are the Maldives suitable for non-swimmers or beginner divers?
Answer: Absolutely! The Maldives offers opportunities for both non-swimmers and beginner divers. Many resorts and dive centers provide snorkeling lessons and guided dives suitable for all skill levels. You can explore the colorful marine life while staying safe with professional guidance.
Are there any cultural considerations to keep in mind while visiting the Maldives?
Answer: Yes, it's important to respect the local culture and customs of the Maldives. As a Muslim country, modest dress is appreciated when visiting local islands. Public displays of affection should be kept to a minimum. It's advisable to familiarize yourself with local customs and traditions to ensure a respectful and enjoyable experience.
Can I visit multiple islands during my honeymoon in the Maldives?
Answer: Absolutely! The Maldives is composed of numerous islands, and island hopping is a popular activity. Many resorts offer day trips or overnight stays on nearby islands, allowing you to explore different locations and experience the unique charms of each island.
Is it necessary to book an all-inclusive resort for a honeymoon in the Maldives?
Answer: It's not necessary to book an all-inclusive resort, as there are various accommodation options available, including bed and breakfast or half-board packages. Consider your preferences and budget when choosing the right resort or hotel for your honeymoon.
Can I enjoy water sports activities during my honeymoon in the Maldives?
Answer: Absolutely! The Maldives offers a wide range of water sports activities, including snorkeling, diving, jet skiing, kayaking, and parasailing. Many resorts have dedicated water sports centers where you can rent equipment or take guided tours.
Is it safe to swim in the ocean around the Maldives?
Answer: Yes, swimming in the ocean around the Maldives is generally safe. However, it's always important to observe safety precautions, such as checking for any warnings or instructions from the resort, avoiding strong currents, and following the guidance of trained professionals when engaging in water sports activities.
Note: The information provided in this blog post is based on general knowledge and research. It's always recommended to check the latest travel advisories and consult with travel experts or official sources before planning your honeymoon in the Maldives.
Best Overwater Bungalows in Fiji – Resorts – Islands.