Question-based games are extremely popular around the world, and you can take "who wants to be a millionaire?" for instance. Of course, major tournaments, shows, and competitions are a different subject.
How about playing a question-based games at home?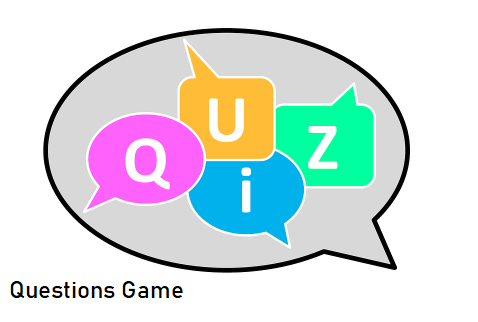 It is fun that I have tried as it challenges the individual in front of you and it increases the intensity of the game. Interestingly, I played this game with a friend of mine, who does not communicate a lot in life. He started to engage in conversations that surprised his parents.
Question-based games usually reflect the personality of an individual and thoughts as well. If you are someone who is dealing with a complicated person and wants to make them your friends, then this is it. A good game is enough to create a connection of "like-minded" people, and it is a bond that doesn't go away.
1] General Questions
I consider General Questions a good way to learn a lot about common things that we do not know about it. It is a game played with a group of classmates, neighbors, and sports people. A good way to break in to pool of knowledge and a proper stage to create a positive impression.
2] History
The most boring subject in academics is history, and I cannot deny that I have disliked it. However, it is an excellent topic to talk about modern history such as what happened 20 years ago. Recently, the biography movie released, which created an argument. I have turned it into a history-based game that turned into a great game.
3] Traditional Food Games
I have seen women talking about native food cuisine, and it is a great topic to learn more about the secret ingredients. In India, we have Nizami food, and it is a popular cuisine because only Kings use to get delicious food back in the days. It is a simple game to learn about secret ingredients to recreate royal food.
4] Sports
Every country has a lovable sport such as Soccer, Baseball, Basketball, Cricket, etc. Throw a few questions related to the recent tournament is a great way to gain knowledge in sports.
5] I LOVE
A very popular game among the new generation youngsters and it does not involve romantic love. For example, you can ask a friend, what car do you love and name three of them? It is an excellent way to learn about tastes.
6] Politics
The most interesting game in the world and you can learn plenty of tricks to get a word out of someone's mouth. It is a game of Honesty, Opinion, and Knowledge. However, it can create a messed up conversation, so be careful, who are engaging.
7] Technology
The technology is moving incredibly faster over the years. You can ask questions like "what is the next Tesla smart car?" and the intensity will increase. Of course, it is another prime example to learn more about developments.
8] Situations
If you want to test someone's IQ, then you have a Question-Based game called "situations." Create a situation for the individual and then write down two possible solutions in a notepad. Now, the challenger has to answer the perfect answer or close to what's written in notepad to gain upper hand.
9] LAWS
It is an important subject for students, who are currently pursuing LAW or practicing LAW & order. I consider it the best way to gain knowledge and find out more about ourselves. It is a clever way to reinsure that individual has answers for everything.
10] Games
In gaming, technical knowledge is extremely important to perfect a game. Regardless of time and date, the gamers have in-depth knowledge in Weapons, Game technicality, and Options more likely to take #1 home. You can ask questions like "What ammo goes into Steyr AUG?" and it improves knowledge in-game.
11] News
International news channels to portals are spreading fake news all over the internet and television. A quick question on the latest news and test them, if they can identify the fake news among the legit news.
12] Would you love to have a home in the mountains or the beach?
House is an important question to learn about the person's personality, whether he/she likes to travel or not. Those, who select beach as a destination love crowd, parties, and adventures life. In case, if the individual has Select Mountain, then they love peace.
13] Select one that you want to visit?
A smart way to learn about the favorite destination of the loved one's, and it will assist the loved ones in taking the family to a vacation. A dream destination also explains the heart of the matter of a person, pay attention to it.
14] Choose an animal that suits your personality
Every human being considers themselves a Lion, Tiger, and other striking animals and in reality, they are jerks.  It is an ideal way to find out, what your friend considers him and it is a great way to learn someone's attitude.
15] Choose someone as your professor
A skilled person is always impressive at almost everything. We focus more on the tactics, strategies and secret ingredients that made him skilled. However, learning about someone's mentor is the key to find out the secrets techniques of a skilled man.
16] Would you select Intelligence or Looks?
A human being is always looking for something that they don't have it. I consider it a secret weapon to learning about someone's lack of confidence in a specific thing. You can help a friend overcome the issue as well.
17] What change do you want to bring to life?
Usually, people are not honest about their weakness, and they won't mention a thing about it. An honest man or woman would reveal it without hesitation. As a friend, you must assist the friend overcoming the challenges.
18] Name the celebrity that inspires you to do more
Learning about someone's like & dislikes is a starting point to a great friendship. It is an excellent approach to learn about a favorite movie star so that you can take them to the next movie. No one can reject the offer to watch the first day show of a favorite celebrity movie.
19] What is the definition of an ideal man or women?
Usually, women do not reveal all the information about the ideal man qualities. However, men do reveal what they want from their partner and what they are looking in a bride. In case, if you want in-depth information from your crush, then make one of the crush's friends to ask it.
20] How often do you clean your room?
Cleaning is an important task of life, and those who clean often prefer men or women to look good, cloth well and smell good. It is indeed a good question to learn, whether she or he likes well-groomed partners or not.
21] Choose between Rich or Famous?
The answer, you should be seeking is Rich or Famous. In case, if the answer is BOTH, then you are looking at someone with ambitions to become RICH and POPULAR. They are an opportunist and confident people.
22] What is more important Justice, Loyal, and Hustle?
In a relationship, loyalty stands on the top, and in general life, justice will stand on the top and Hustling is an everyday struggle. There is no order in general, so the answer should be all of them are important. If someone is picking one of those in order, then you have a two-faced friend.
23] The Angriest Moment
I have seen a lot of people fall into the depths of ANGER and someone of them have not shown anger in years. If you are interested to learn about angry management issues of an individual, then ask them the last when they got angry. Also, learn about the reason behind it so that you can find the CALMNESS/ANGRY ratio within a person.
24] Who do you stalk on social media?
An honest person would reveal it, but it is someone, who doesn't use social media a lot then do not expect an impressive answer.
25] When the last time you lied to someone?
I assume that you have asked at least a few questions from this article, right? If that is the case, the moment of the truth is here and asks about it. An honest person would tell you that they have lied now, and if they explain recent lies, then they are telling the truth.
Conclusion
Question-based games are interesting to know more about someone that you love and care about them. However, a smart human being is a little bit harder to find dig deep into it. Let us know what questions you have picked from the list in the comment section below.